THE Melbourne Cup is one of the biggest days on the Australian sporting calendar. It attracts the best thoroughbred horses from all over the country and the world, in a bid to win the world's richest two mile handicap. It's a glamorous day at the picturesque Flemington circuit, filled with celebrities, frocks, wine and punting. It wasn't always that way though.
Melbourne Cup winners and their jockeys
The day it was first run in November 1861, just 4000 people turned out to the Melbourne Cup. As of 2016, crowds in excess of 100,000 swamp the track in a bid to get a look at the next cup winner. While the horses are the stars, the little men and women who pilot them to glory have an opportunity to etch their name in history by being first past the post on the big day.
Legendary trainer horse racing Bart Cummings – the Cups King – almost has a mortgage on the cup, with 12 winners and more entrants than any other, but a pair of jockeys stand above all others with the record for the most wins on mount.
Bobby Lewis and Harry White each lay claim to four Melbourne Cup winners. White's career is intertwined with Cummings: He twice won back to back cups, riding Think Big to a pair of victories in 1974 and 1974, for Cummings and then Sending home Arwon and Hyperno in 1978 and 1979. Three of those four winners were Cummings horses, with Arwon trained by George Hanlon.
Lewis partnered fabled trainer James Scobie to win in 1927 on Trivalve, adding that to victories on Artilleryman in 1919, Patrobas in 1915 and The Victory in 1902 – his first and second win were 17 years apart.
Six jockeys sit just behind that pair, with three salutes in the Race That Stops A Nation. William 'Midge' McLachlan, Darby Munro, Jack Purtell, Jimmy Johnson, and, more recently, Damian Oliver and Glen Boss, have won three cups each.
McLachlan went back to back in 1910 and 1911, before winning a third in 1917, Munro first won on Peter Pan in 1934 and then claimed it again 10 years later, before rounding out his treble in 1946. Purtell won first in 1947 and then went back to bacon 1953 and 1954. Johnson won on Gatum Gatum in 1963 and then became a legend on the great Rain Lover, claiming a pair of Cups in 1968 and 1969, his steed becoming a cult figure in racing history.
The great Damian Oliver was among the great jockeys of his time and won his last cup as recently as 2013, aboard Fiorente. He sent Doriemus home in 1995, with his joy becoming iconic – "This is sensational I've just won the Melbourne Cup".
His emotional win on Media Puzzle, following the death of his brother Jason in a riding accident, in 2002 captured the nation. "To my brother Jason: I know you are up there, mate," Oliver said after he won. "I couldn't have done it without you, buddy. This one's for you."
There is no doubting Boss is a Melbourne Cup boss. While he was slightly fortunate in his union with one of the greatest stayers of all time, Maybe Diva, he is the only hoop to ever win the famous race three straight times. All of those were on the Diva.
Michelle Payne might be the most inspiring winner of all jockeys. She became the first female to claim the cup aboard Protectionist in 2015, and dedicated it the breaking the glass ceiling for women in the sport.
Best online bookmakers to bet on the Melbourne Cup with
If you're betting on the cup and want to ride your favourite jockey home, you need a bookmaker you can rely on. Never fear, we have run the rule over the best online offerings and found that these six bookies will give you more bang for your buck on cup day than any others.
Melbourne Cup Bookies
When and where is the Melbourne Cup?
The Melbourne Cup is run each year on the first Tuesday in November. In 2016, it will be on Tuesday, November 1, and it is a public holiday in Victoria. The race is usually at 3pm at Flemington Racecourse. It's price money is a massive $6.2 million – and the $150,000 cup, of course.
Melbourne Cup records
Race record time: Kingston Rule 1990 – 3 minutes 16.3 seconds
Biggest winning margin: Archer (1862), Rain Lover (1968), Eight lengths
Heaviest winning weight: Carbine (1890), 66kg
Lightest winning weight: Banker (1863), 33.5kg
Heaviest weight carried: Phar Lap (68kg)
Melb Cup trainers with most wins
Bart Cummings 12 wins (1965, 1966, 1967, 1974, 1975, 1977, 1979, 1990, 1991, 1996, 1999, 2008)
Etienne de Mestre five wins (1861, 1862, 1867, 1877, 1878)
Lee Freedman five wins (1989, 1992, 1995, 2004, 2005)
Melb Cup owners with most wins
John Tait four wins (1866, 1868, 1871, 1872)
Etienne de Mestre four wins (1861, 1862, 1867, 1878)
Dato Tan Chin Nam four wins (1974, 1975, 1996, 2008)
Lloyd Williams four wins (1981, 1985, 2007, 2012)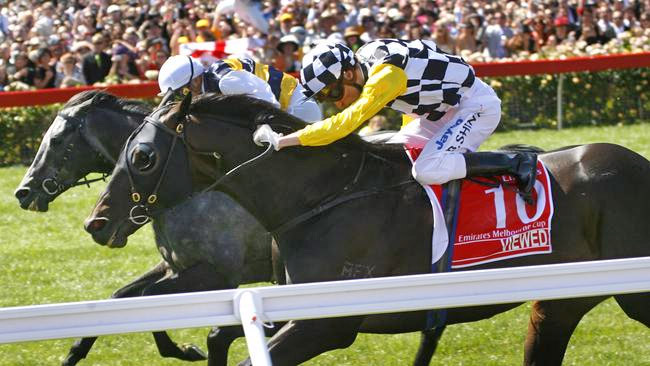 List of Melbourne Cup winners
| Year | Horse | Jockey | Trainer |
| --- | --- | --- | --- |
| 2015 | Prince of Penzance | Michelle Payne | Darren Weir |
| 2014 | Protectionist | Ryan Moore | Andreas Wohler |
| 2013 | Fiorente | Damien Oliver | Gai Waterhouse |
| 2012 | Green Moon | Brett Prebble | Robert Hickmott |
| 2011 | Dunaden | Christoph Lemaire | Mikel Delzangles |
| 2010 | Americain | Gérald Mossé | Alain de Royer Dupre |
| 2009 | Shocking | Corey Brown | Mark Kavanagh |
| 2008 | Viewed | Blake Shinn | Bart Cummings |
| 2007 | Efficient | Michael Rodd | Graeme Rogerson |
| 2006 | Delta Blues | Yasunari Iwata | Katsuhiko Sumii |
| 2005 | Makybe Diva | Glen Boss | Lee Freedman |
| 2004 | Makybe Diva | Glen Boss | Lee Freedman |
| 2003 | Makybe Diva | Glen Boss | David Hall |
| 2002 | Media Puzzle | Damien Oliver | Dermot K. Weld |
| 2001 | Ethereal | Scott Seamer | Sheila Laxon |
| 2000 | Brew | Kerrin McEvoy | Mike Moroney |
| 1999 | Rogan Josh | John Marshall | Bart Cummings |
| 1998 | Jezabeel | Chris Munce | Brian Jenkins |
| 1997 | Might and Power | Jim Cassidy | Jack Denham |
| 1996 | Saintly | Darren Beadman | Bart Cummings |
| 1995 | Doriemus | Damien Oliver | Lee Freedman |
| 1994 | Jeune | Wayne Harris | David Hayes |
| 1993 | Vintage Crop | Michael Kinane | Dermot K. Weld |
| 1992 | Subzero | Greg Hall | Lee Freedman |
| 1991 | Let's Elope | Steven King | Bart Cummings |
| 1990 | Kingston Rule | Darren Beadman | Bart Cummings |
| 1989 | Tawriffic | Shane Dye | Lee Freedman |
| 1988 | Empire Rose | T K Allan | Laurie Laxon |
| 1987 | Kensei | Larry Olsen | Les Bridge |
| 1986 | At Talaq | Michael Clarke | Colin Hayes |
| 1985 | What A Nuisance | Pat Hyland | John Meagher |
| 1984 | Black Knight | Peter Cook | George Hanlon |
| 1983 | Kiwi | Jim Cassidy | Snowy Lupton |