Neds emerges as Australia's newest online bookmaker . It's fresh, exciting and well worth a look.
Sign up

Players from United States not accepted
Use Neds Code: GETON
Support
Australia: 1300 006 337, International: +61 7 3183 9333


Screenshot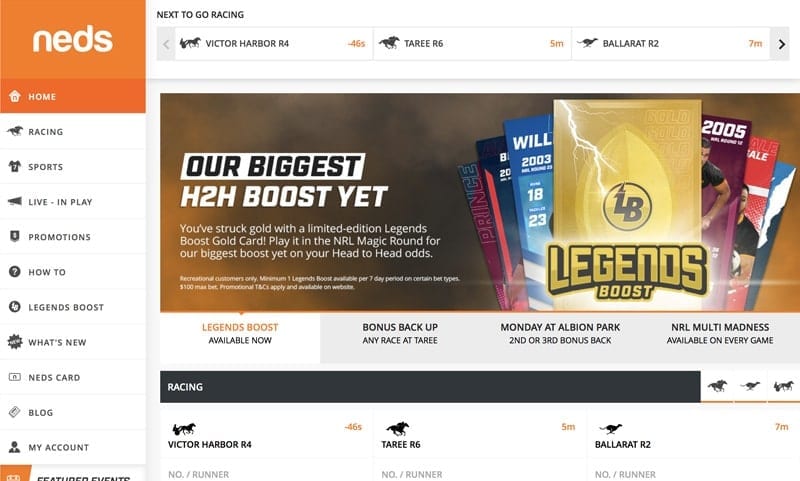 Company info

Established 2017
Customer service: Phone : 1300 006 337, Live chat, Email
Owner Origin: Isle Of Man
Owner: GVC Holdings

Withdrawal options

Bank Transfer, Debit Card, Neds Card

Withdrawal Limits

No minimum withdrawal stated. It is a requirement that you turnover (bet through) your deposited funds at least once before withdrawal.

Currencies accepted

Australian Dollar

Deposit Method

Apple Pay, BPAY, Bank transfer, Credit Card, Flexepin, MasterCard, POLi, Paypal, Visa, Neds Cash In, Debit Card, Pay ID

Licenses

NT Racing Commission

Restricted Countries

Afghanistan. Algeria. American. Samoa. Anguilla. Austria. Bahamas. Belgium. Bermuda. Botswana. British. Indian. Ocean. Territory. British. Virgin. Islands. Bulgaria. Cayman. Islands. China. Colombia. Congo. Cook. Islands. Croatia. Cyprus. Czech. Republic. Denmark. Estonia. Ethiopia. Falkland. Islands. Finland. France. French. Guiana. French. Southern. Territories. Georgia. Germany. Ghana. Gibraltar. Greece. Greenland. Guadeloupe. Guam. Hong. Kong. Hungary. India. Iran. Iraq. Ireland. Isle. of. Man. Israel. Italy. Kenya. Latvia. Lebanon. Liberia. Lithuania. Luxembourg. Macedonia. Malta. Martinique. Mayotte. Montserrat. Myanmar. Netherlands. New. Caledonia. Nigeria. North. Korea. Northern. Mariana. Islands. Pakistan. Philippines. Pitcairn. Poland. Portugal. Puerto. Rico. Reunion. Romania. Rwanda. Saint. Barthelemy. Saint. Helena, . Ascension. and. Tristan. da. Cunha. Saint. Martin. Saint. Pierre. and. Miquelon. Serbia. Sierra. Leone. Singapore. Slovakia. Slovenia. Somalia. South. Africa. South. Georgia. and. South. Sandwich. Islands. Spain. Sri. Lanka. Sudan. Sweden. Syrian. Arab. Republic. Tanzania. Trinidad. and. Tobago. Tunisia. Turkey. Turks. and. Caicos. Islands. United. Kingdom. United. States. Minor. Outlying. Islands. United. States. of. America. Uruguay. US. Virgin. Islands. Venezuela. Wallis. and. Futuna. Yemen. Zimbabwe
TO get the full benefit of the Neds code you must apply GETON500 with this unlocking a bounty of treasure for new players. While the Neds bonus code and Neds free bet is no longer, because of Australian laws, Ausbet.com.au is happy to have secured an exclusive code for our readers. Our Neds review will teach you everything you never knew you needed to know about this online bookmaker that launched in 2017.
Introduction to Neds Australia

Neds appeared on the Australian market with the help of CEO Dean Shannon. As a former Ladbrokes chief executive, Shannon launched the newest bookmaker in October of 2017, in preparation for Australia's biggest race, the Melbourne Cup. Neds has recently thrived off the back of clever advertising and excellent customer satisfaction, providing punters with a bookmaker they can trust.
The team at Neds prides themselves on creating an easy-to-use platform that can be accessed and navigated with a minimum of fuss, allowing for punters of all ages to assimilate with the company. The target audience of Neds can range from any human, which is easy to understand as they want to become an international success story.
Neds horse racing
If you want to become a strong player in the Australian betting market, you need to be well-equipped with racing, which is exactly what Neds excels in. The bookmakers provide access to all Aussie races, with all standard racing bets available, such as trifectas, quinellas and quadrellas, placing Neds alongside other racing-centric bookies.
Not only does the bookmaker target local races, you can also access a plethora of international races at any time, including American, United Kingdom, Canadian and French horses, a very important aspect for racing fanatics.
The three formats of racing are Thoroughbred (horses), Harness and Greyhound, which all receive the same treatment from Neds. Harness Racing is a very popular format that can go missing amongst other websites and bookmakers, but Neds emphasises the love for all three formats.
The beloved greyhound industry is also given the local and international treatment, with more priority on Australia and New Zealand races, Neds allows for 24-7 greyhound wagering within their services.
Neds sports
In our opinion, the best part about Neds is the ultimate sports coverage and accessibility, where all sports worldwide are available.
Here is an alphabetical list of sports that you can bet on if you go through Neds: American Football, Athletics, Australian Rules Football (AFL), Badminton, Baseball, Basketball, Boxing, Cricket, Cycling, Darts, E-Sports, Gaelic Sports, Golf, Handball, Ice Hockey, Mixed Martial Arts, Motor Sport, Novelty (anything pop culture), Politics, Rugby League, Rugby Union, Snooker, Surfing, Tennis, Volleyball and Yachting.
Being an Australian product, Neds has the best markets for AFL and NRL matches and futures, with markets for A-League and NBL too, making it one of the best places to wager on local sports.
The inclusion of E-Sports is a move in the right direction for many bookmakers, but Neds has already made the jump and is providing excellent markets. The future of eSports wagering is very bright and cannot be underestimated, with a huge support base in Australia and internationally. Many punters chose Neds simply because they have E-Sports betting.
When you want to punt on a sport, Neds will always inform you what is popular, upcoming and valuable, allowing punters greater and quicker access to their favourite markets.
Neds promotion toolbox
Simply put, Neds Toolbox is like having access to premium tools without having to spend money, as it comes with all mobile accounts that have correctly signed up.
The Toolbox is a mysterious bundle that gives punters access to multiple different advantages that can help you retain money or win more each day. Resetting every day at midnight, the toolbox will refill itself automatically, proving punters with more benefits every day.
Some of the tools you can use will be detailed below.
Neds Price Boost: If you are familiar with Ladbrokes or Sportsbet you will understand this bonus quickly. The price boost functions as it sounds, providing better odds for horses or bets with the tap of a finger, allowing punters to win more with a single bet.
Neds Fluc Up: When you place a bet on a fixed odds horse, you have the opportunity to increase your odds within five minutes. This feature is especially handy if you believe your horse is suddenly a better chance to win. With no repercussions for losing, the Fluc Up is one of the best features across all bookmakers.
Neds Jump Off: You ever watch a race and your horse misses the jump? The Jump Off feature is one that you can use to get back a stake after the race has begun. You will see a Jump Off timer on your bet slip, which you can use as long as the timer doesn't run out. Your money will return to your account and you will breath a sigh of relief, unless your horse suddenly makes a miraculous comeback.
Neds Back Up: The usage of the Neds Back Up is a very helpful feature that can often return punters' stakes. You select your horse as per usual, but then you elect to invoke the Back Up, where you select a second horse. If the second horse wins and your original selection finishes second, you will be redistributed your original stake.
Neds sign up bonus
Since November 30 2018, Australia banned a variety of Neds bonus bets, including free bets, rewards, deposit bonuses and sign up bonuses.
You will not receive a bonus bet or extra deposit money when you make an account with Neds, although the bookmaker has made a new form of bonus that does not relate to bonus, which is known as the referral code.
Signing up is very easy to do in the modern era and only requires credentials, an email address and official identification. When signing up with Neds you can input a code for features other than bonuses.
Neds login
Logging in with Neds is the same as any standard bookmaker, requiring an email address or username, partnered with a password. There are typical features such as the 'forgot password' ability to give the website the remember me option on your desktop.
Neds app
The Neds app is one of the best in the business.
You can access everything available on the desktop version at the palm of your hand, with even more features available. The illusive Neds toolbox is exclusively for the app, where you can get all the detailed features above.
With a world-class interface that anyone can understand, the Neds app is very easy to navigate and is cleverly created.
You will see a picture of a basketball player on the link to the NBA markets, a pair of soccer players on the A-League link and other examples that are universally recognised.
The app constantly receives improvements through updates that take no time at all, which emphasises how hard the team at Neds works to keep providing the best possible experience.
Minimal loading times and fast navigation make for an app that rivals the best available on the Apple Store and on Android phones.
Neds online desktop
Greeting you with a wonderful orange interface, Neds online desktop website is one of the best going around. You can instantly see which areas are available to be explored, as the left of screen is clearly labelled with related pictures.
The day, date and time will always be displayed in the top left corner of the screen, another helpful feature that can benefit punters. Horse racing is displayed in a table format, with races one to 10 spreading out across the screen in a very understandable format.
When you open your selected race, you are given all the important information to make a decision, such as the track condition, current weather and a short synopsis of the field, which is very generous for a bookmaker to provide.
More features such as an odds tracker, fluctuations and full form guide are also available before the jump, which only adds to the prestigious reputation that Neds has built.
Moving on to the sports section of the website will be a delight, with clearly labelled sports and added pictures the first thing that catches your eye.
A 'Next Sports' header will provide you with events that are minutes away from commencing, whilst a 'Featured Sports' section will show the most popular sports in the country, with the final header, 'Upcoming Sports' literally providing sports that will begin in less than a minute internationally, which can vary from any known sport in the markets.
Choosing your respective sport will bring up a window with different countries where the matches commence. For example, selecting soccer will bring up every area that participates, such as Australia, UK, Europe and Asia.
Selecting Australia brings up all the A-League matches of the upcoming round, with the number of available markets labelled on all the games.
The Neds desktop has other areas to explore such as the 'Live – In Play' section and the 'Promotions' section. These areas are exactly as they sound, displaying whatever is currently 'In Play' and detailing whatever promotions are available on the selected day.
Neds also have a blog which is linked on the main desktop which provides tips for all sorts of events in Australia and even tips for international sports. It is worth checking out the Neds tips for any selected sport you enjoy wagering on or simply watching.
Neds customer service
Neds prides itself on its 24-hour customer support available seven days a week. The support numbers are easy to find and you are greeted with a helpful employee when you ring. If ringing is not for you, you can send through an email or chat on the website directly.
The service is similar to most bookmakers, but it is known for being helpful and prioritised, which sets Neds apart.
Neds Card
If you want to bring your account with you on the go, Neds have created the Neds Card, a credit card that is linked directly to your Neds account, where you can use anywhere that accepts a Mastercard, allowing punters to spend their winnings quicker.
This card is a good idea for cutting out the middle man, where you do not need to withdraw from you account into your regular bank account, instead you can make payments directly from your Neds account.
Neds Review: Neds is more than just a great bonus code
If you want a fresh start to punting or are new to the scene, it is very hard to go past Neds as a bookmaker of choice. You know that the company is good because you will receive daily offers and features, where you can enjoy horse racing to a new extent.
The amount of sports available is clearly a huge plus for the company as it can even rival the likes of Sportsbet and Ladbrokes. The inclusion of E-Sports has received high praise and the local Australian inclusion and prioritisation is a welcomed inclusion.
If you are going to choose a new bookmaker to start your betting journey, Neds would be one of the first choices on our list.